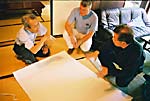 Mr Iwano, Mr. Hasegawa and Mr. Pedovic in the house by the workshop for hand-made paper production.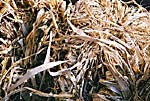 Basic raw materials used in hand-made paper production.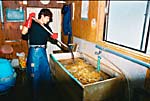 A detail from the production process.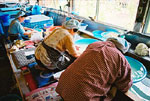 A detail from the production process.
Mr. Heizaburo IWANO'S
MANUFACTURE
FOR THER PRODUCTION OF JAPANESE HAND-MADE PAPER
Mr. Iwano, whose family has been in the paper producing business for over 300 years, lives and works in Fukui prefecture (Japan) or more precisely, in Imadate Town, a place particularly well known for its production of hand-made paper.
The photos that are before you show the entire process of the production of Japanese hand-made paper. They were taken during a visit to Mr. Iwano in June 2001.
Japanese hand-made ma-shi paper is produced in many varieties for different art techniques, while the process of production itself has not changed for centuries. Most typically this paper is made from several kinds of reed like micimata, kozo, gampi and asa, although occasionally, fibers from the inside of tree barks are also used.
These form the main part of the substance, everything else that is added in the process remains a secret. The entire process, of course, is machine-free.
Since Imadate Town is the most famous paper-producing community in Japan, they even constructed a temple dedicated to the god of paper, Otaki Shuray Djindja. The temple is made of wood and surrounded by beautiful pine trees. Special attention is paid in each and every part of the process of paper-making which is done with love and intention that every piece of paper turn out to be unique which can easily be checked with a magnifying glass. This would indeed prove that the master had put his heart and soul into his work.
Having this in mind, it is expected from the part of the authors using this paper to get the hang of it, feel the Japanese tradition and use all this as a base when creating a piece of art which is supposed to be a kind of symbiosis of our two countries. The first stage in the production process is, of course, the gathering and assembling of all the raw materials which are then placed in large containers and literally cooked for a few hours.
The material is then purified, ground, mixed until it turns into a yellowish mass called mitsumata. It is then beaten with bats and poured into special sieves, which are moved to and fro. The layers of this future paper are then repeatedly frozen and placed between cotton sheets. At this point, pressure is applied in order to remove any air that might be stuck in the mass.
At the final stage, everything is moved to drying chambers for about four hours and then finally stored.
It is a fact that up to 80% of Japanese artists use hand-made paper for their works of art. This kind of paper is particularly good for painting with brushes, and also other techniques. A.P.
| | |
| --- | --- |
| A detail from the production process. | A detail from the production process. |
| Storage of the finished product - hand-made paper. | |
---