---
NEWS:
The Iwano Project VIII - E X H I B I T I O N
BiH RS
Đurđica BJELOŠEVIĆ - W06, Gorana BOSNIĆ, Berina ŠUŠČEVIĆ
CG
Marijana ŽEBELJAN
BG:
Milena SAVOVA ATANASOVA - W06, Cvetelina MAKSIMOVA GEORGIEVA - W06
Nedko NEDKOV
CH
Alessandra Rebecca PORTO
D
Dijana MOJAK, Babette WEIDNER
HR
Mirjana KONTA, Marina ORLIĆ, Monika PETROVIĆ, Nadja ZENZEROVIĆ,
Vanja ZENZEROVIĆ - W06
HU
Anita DORNER - W06
I
Giampaolo ATZENI, Stefania Di CARLANTONIO, Giorgio PAHOR, Cornelia STAUFFER
JPN
Linmay KOMINE - W06, GotoTOMO - W06
FYR MC
Aleksandra Petruševska, Zorica ZAFIROVSKA - W06, Jana SAJKOVSKA
SLO
Maja PUČL - W06, Martina ŠTIRN, Tanja VERGLES
E
Julio César ARANZ CALVO
SRB
Jelica ĆULAFIĆ - W06, Tijana TITIN - W06, Mile ŠAULA, Marko ZEKIĆ
RO,
Marina ALBU - W06, Diana DUTĂ, Mádálina ZAHARIA,
USA
Nenad RUKAVINA

The "Muzej 25. maj" Gallery in Belgrade


NEWS:
The Iwano Project VII – Exhibition in Pula (Istria – Croatia)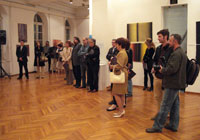 The final exhibition from the "The Iwano Project VII" cycle will be held from October 12th through 22nd 2007 upon invitation by the Istria region – the city of Pula (Republic of Croatia).
The exhibition will be opened by the deputy mayor of the city of Pula, Mr. Fabrizio Radin, while details of the project and the exhibition itself will be presented by the author and director of the project, Mr. Aleksandar Pedović.
The exhibition will be set up at the Vincent Gallery of INK – Istrian National Theatre.
Exhibitors:
21 artists from 10 countries with 42 works of art on the famous hand-made, large-scale Japanese paper, courtesy of Mr. Heizaburo Iwano.
Bosnia and Herzegovina:Tatjana Škrbić
Bulgaria: Emil Mirazchiev, Marija Popova, Yohanes Artinyan
Croatia: Igor Grgurević, Korana Lukić Šuran, Vinko Šaina
Hungary: Emese Gog, Szófia Szemzö
Italy : Liliana Radičević
Macedonia: Iva Josifova, Monika Desoska
Serbia: Ivana Mali Vukelić, Jelena Međed, , Šejma Prodanović, Danijel Babić
Slovakia: Martina Lacova´, Klaudia Kosziba
Slovenia : Irma Gnezda, Meta Adamič Bahl
Romania : Spatariu Sabina
---
The Iwano Project VII
---

Iwano I

Iwano II

Iwano III

Iwano IV

Iwano V

Iwano VI

Iwano VII
---