---
Anka BURIC


1956. Born in Niksic, Montenegro. 1981. Graduated from The academy of Fine Arts in Sarajevo, in the class of professor Dzevad Hoza, graphic department. 1983. She got her M.A. degree at The Academy of Fine Arts in Belgrade with professor Branko Miljus. 1983. Works at The Faculty of Fine Arts in Cetinje as assistant professor. She is a member of The Association of Fine Arts Artists of Montenegro. She has exhibited her works individually at 11 exhibitions both in the country and abroad, and has also taken part at numerous group exhibitions. She is a winner of many awards in the field of graphics, drawing, watercolor and so on.

Works:

BETWEEN TWO POINTS I, II, III, IV, V
pressed coal and pencil
106 x 66 cm
2000.
---
The Iwano Project I > Artists:
---
Anka BURIC, Branka JANKOVIC KNEZEVIC, Milan MATAVULJ, Jelena MINIC, Visnja PETROVIC, Aleksandar PEDOVIC, Krstinja RADIN, Dusan TODOROVIC, Zvonko TILIC, Dragoslav VISEKRUNA
---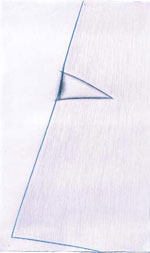 Click for larger picture
BETWEEN TWO POINTS I
pressed coal and pencil
106 x 66 cm
2000.